We are now offering pilot programs deploying our new On-demand QA service – a hybrid of outsourcing and crowd testing.
For twenty years we've been helping customers develop quality software through process leadership, testing technology, and professional services. And now, by partnering with a Global Digital Consulting Company, we're able to provide On-demand QA.
Contact us to schedule a quick fifteen-minute call with one of our experts.
As with crowd testing, our on-demand services are used to supplement your internal QA, not replace it.
Add additional resources as schedules demand; release milestones, new features, platform updates…
Offload areas that are repetitive, less domain specific, or too costly to staff internally.
Augment your Continuous Integration with periodic exploratory and manual testing.
You only pay for the testing you need!
Unlike crowd testing – using dispersed, unaffiliated resources - our testers are vetted, company employees under our management and your direction. Programs are established under confidentiality agreements with an assigned pool of on-demand testers fully trained on our test platform Testspace. Projects are created based on the type of testing required, most commonly manual "scripted" testing and exploratory testing, for products including:
Web Applications
Mobile Devices and Applications
Desktop Applications
IoT Devices and Applications
How the model works
We've taken a modern approach of managing manual tests as code, and leveraging the collaboration features and project management tools by Integrating with GitHub. The process is light, scalable, and completely under your control:
Test Instructions are written in plain text and markdown and managed as files in your GitHub repositories.

Testing is planned - when you need it - with the creation of a new GitHub Project Board.

Testspace, on notification from GitHub, populates the board with cards and columns reflecting the current set of tests to execute.

Testers - working from Testspace and without required access to your repositories - follow guiding-forms built from the repository files while entering status, notes, and other observations during test sessions.

Testspace continuously updates the GitHub Project Board with progress, pass/fail results, notes, etc., until all testing is done.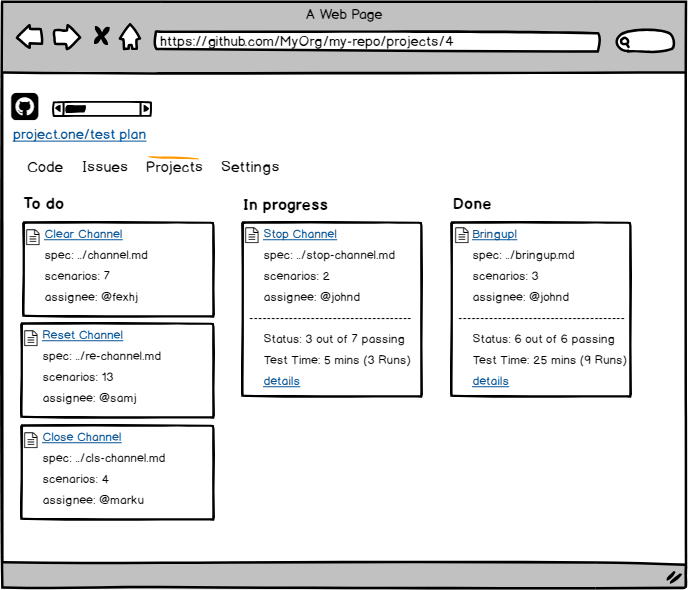 We're looking for companies with a need to supplement their internal testing with scalable, cost-effective, On-demand QA services. Pilot programs are currently being offered at substantially reduced pricing. Contact us for more information.
THANK YOU FOR YOUR INTEREST.
---
Get setup in minutes!
Try Testspace risk free. No credit card required.
Have questions? Contact us.
Testspace works seamlessly with the vast majoritiy of CI systems and online services, including